Preventing Phishing for Your Employees Toolkit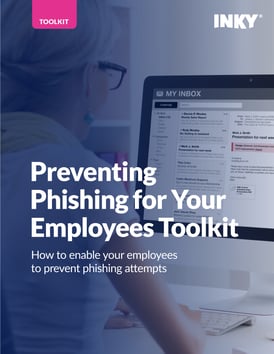 Recent research shows that 70.8% of organizations have less than 1 security staff member to every 100, with 49% of those reporting 1 security team member to 500 staff members.* That leaves security staff stretched thin to combat phishing attempts aimed at (mostly) innocent employee actions.
To ensure business continuity in an already complex digital work environment, learn how to empower your end-users to identify and stop cyber criminal's advanced attacks that often bypass legacy email security tools.
Toolkit Highlights:
Gain an understanding of tactics cybercriminals are using to trick and lure innocent users, including malicious links, attachment clicking, embedded code

Learn how to implement a comprehensive security program that leverages machine learning to drive better user behaviors in end users

Leverage INKY's proprietary Computer Vision to to identify and stop phishing attempts with one look

Learn how to automate phishing identification