INKY's 2019 Email Security Report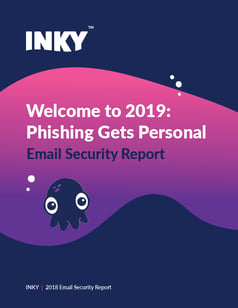 The fourth quarter of 2018 was a busy period for phishing scammers. INKY researchers saw a spike in email volume this time of year as people use email to gather their receipts from online shopping, shipping notifications, returns, and virtual holiday greetings. We pulled out the highest volume attack types and broke down each one. The majority of attacks that were analyzed showed an increase in target personalization, making them considerably more difficult to detect.
Key Findings:
11.4% of phishing attacks took the form of VIP Impersonations.
10.3% of assessed phishing attacks are Sender Forgery.
5.9% of phishing attacks were via Corporate Email Spoofing.
Download the full report for the latest insight into today's highly sophisticated phishing attacks.