Switching Managed Service Providers (MSP) is no easy decision and yet companies make the unsettling choice to do so all the time. What pushes them over the edge? There might be hundreds of possible reasons at play. If you're an MSP, it's a good idea to occasionally assess your own business so you can steer clear of the pitfalls faced by others in the industry.
Here is a list of twelve reasons companies switch MSPs and ways you can help ensure you're not making anyone's termination list.
Slow or unreliable network
Too many employee complaints
Lack of a personal relationship
Weak or no security stack in their offering
Too many unplanned outages
No 24/7/365 monitoring of services
Too expensive
Lack of follow-through
Current MSP doesn't suggest new technologies
You were unprepared for a cyberattack
Mishandled upgrades
Wants stronger mobile device management (MDM)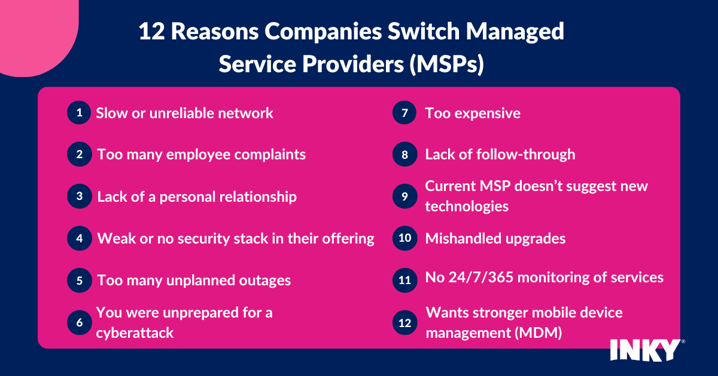 There are an estimated 40,000 MSPs in the United States and yet the Pareto Principle suggests that 80% of the wealth is controlled by 20% of the market.1 To help ensure you're in the top 20% of the market you don't want to give any client even one reason to change providers.
At INKY, we're all about the security of your email and we believe that by partnering with us, we can help you circumvent the majority of these potential complaints. Here's how:
Here's how:
#4 Weak or no security stack in their offering: Phishing is still the #1 most popular cybercrime of choice, costing companies billions of dollars in lost revenue. These phishing attacks come in many forms including malware, CEO impersonation, ransomware, spear phishing, account takeovers, and more. INKY is the most comprehensive email phishing protection available. Intuitive and easy-to-manage, INKY blocks email impersonation attempts and other forms of phishing while also coaching employees to stay on guard for email threats – all without disrupting productivity. Whether threats are inbound, outbound, or internal, the INKY Email Assistant keeps you a step ahead of phishers with dynamic, interactive banners that make users stop and think before they click. A rising star in the industry, INKY's performance in securing email and preventing phishing attacks has not gone unnoticed. In the first half of 2022 alone, we received a number of accolades including being named a CRN 5-Star Rating Winner, receiving Fast Company's Most Innovative Companies Award, and becoming a Global InfoSec Award Winner.
#5 Too many unplanned outages: We can't help with all planned outages, but implementing INKY will be an easy win. That's because INKY is installed in line and works its magic independently of other system elements. That means no downtime at all.
#6 No 24/7/365 monitoring of services: If this is an area of your business you need to fix, you know it's a big undertaking. When you partner with INKY as an MSP you can rest assured we'll work around the clock, every day of the year to prevent your clients from becoming victims of phishing attacks. And, with INKY's detailed reporting and dashboard, you'll be able to show your clients exactly how secure you're keeping them.
#7 Too expensive: Adding INKY to your set of offerings is also cost-effective. With INKY's affordable pricing, you'll be able to maximize profits with dedicated sales enablement resources and high-margin offerings.
#8 Lack of follow-through: The INKY team will work closely with you to develop and support a total email security program, so your clients are always protected. MSP, Matt Panizari from Arete had this to say about INKY: "As an MSP you often wonder if after you've signed a contract with a partner, will they ever pick up the phone. And I can say we have had great experiences with INKY. They have even helped us go into an environment and make sure everything is configured correctly. That's rare." "A lot of partners would just send you a link in an email and leave you to figure out things on your own. If that engineer gets stuck, they'll escalate the issue, which costs me soft dollars. But INKY took the extra time to be with the engineer. They showed them exactly what they were talking about and walked them through it. When INKY steps in and helps an engineer, they won't have that problem again."2
#9 Current MSP doesn't suggest new technologies: Suggesting INKY is easy and not only will we give you the tools to do so, but INKY can change the way your clients look at email security. They'll have a better understanding of the level of threats that surround all businesses. We work closely with you to develop and support a total email security program, so your clients are always protected.
#10 You were unprepared for a cyberattack: There is no easier time to lose a client than after a phishing attack. They'll come to you for answers and if security isn't part of your strategy, they'll find an MSP who prioritizes better. Considering the average cost of a Business Email Compromise (BEC) attack in 2021 was more than $120,000, they'll be well within their rights to do so. 3 Protect your clients before this even happens, with INKY.
#11 Mishandled upgrades: We can't help you with all upgrades, but the INKY installation will be smooth sailing. INKY is a cloud-based solution and can be completely installed in 1 - 2 hours with no client software installation needed.
# 12 Wants stronger mobile device management (MDM): INKY works on any platform, whether it be a desktop, mobile, email client, or browser. Additionally, this same design works equally well on inbound, outbound, and internally sent emails.
You've just seen how INKY can impact 9 of these 12 reasons why customers look for a new Managed Service Provider (MSP).
Are you ready to improve your offerings as an MSP? Take a little time to get to know INKY by scheduling your free demonstration today.
----------------------
INKY is an award-winning, behavioral email security platform that blocks phishing threats, prevents data leaks, and coaches users to make smart decisions. Like a cybersecurity coach, INKY signals suspicious behaviors with interactive email banners that guide users to take safe action on any device or email client. IT teams don't face the burden of filtering every email themselves or maintaining multiple systems. Through powerful technology and intuitive user engagement, INKY keeps phishers out for good. Learn why so many companies trust the security of their email to INKY. Request an online demonstration today.
1Source: https://www.connectwise.com/blog/managed-services/which-major-forces-will-disrupt-the-msp-market-in-2019
2Source: https://www.inky.com/customers/
3Source: https://www.ic3.gov/Media/PDF/AnnualReport/2021_IC3Report.pdf