Last week SINET announced that INKY Technology is one of the 2021 SINET16 Innovators. We are so honored to be recognized by this prestigious organization as emerging leaders in our field. The mission of SINET is to accelerate cybersecurity innovation into a global marketplace and we're humbled to be recognized as one of the innovators leading that charge across the world.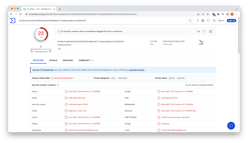 This award is special to me for several reasons:
INKY was selected from a pool of 190 applications across 18 countries. It's become increasingly competitive since the program launched 12 years ago.
This recognition follows our innovative solutions to combat recent surges in phishing originated ransomware.
INKY's mission to continue developing innovative tactics to catch all the phish will be further accelerated from this prestigious honor.
Finally, being named a SINET16 innovator recognizes the hard work the entire INKY team does every day and validates the importance of our mission to protect the integrity of email.
I'm so grateful to the SINET team for this recognition and honored to be listed amongst some of the most impressive security companies in the world like CrowdStrike, FireEye, Cylance, ZeroFox.
Thank you SINET, and congratulations to our fellow 2021 Innovators!
Dave Baggett
CEO/Founder, INKY Technology