Cybercrime affects us all, especially in the workplace. Whether you're a company CEO, Information Technology (IT) manager, or any position in between, staying in touch with the seriousness of cybercrime helps to keep this important topic at the forefront of what's important. And, considering $17,700 is lost every minute due to a phishing attack, staying current is vital.1
So, how cybercrime savvy are you? Below are 10 questions to determine that answer. Each fact is based on 2020 data gathered from the FBI's Internet Crime Complaint Center's (IC3) Annual Internet Crime Report.2 If you don't have time to read the whole report, this short quiz will test your knowledge and help you get up to speed on the growing risks that hide in emails on every desktop, laptop, and mobile device your company supports.
So, grab a pen, jot down your answers, and test your cybercrime savviness.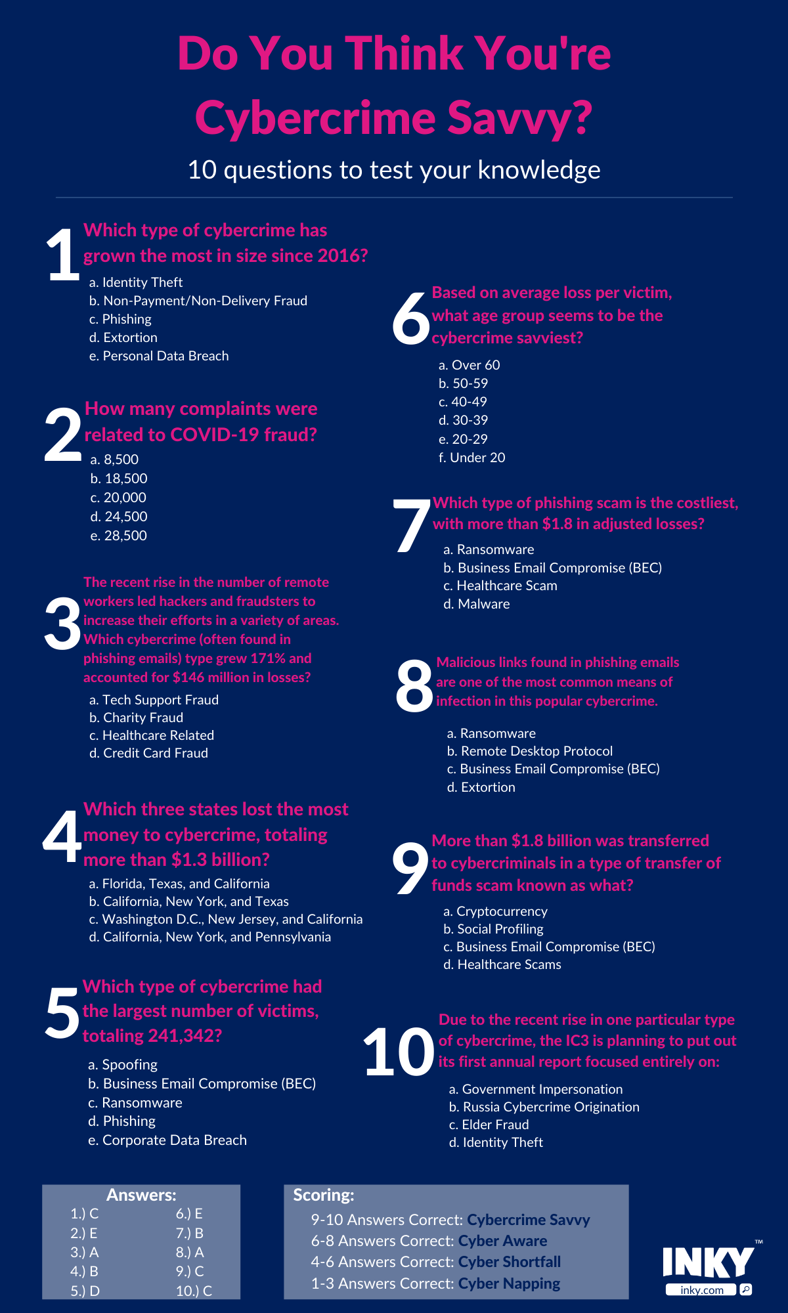 Regardless of your level of cyber awareness, it's crucial to keep your business protected from what could be the costliest event in the history of your company. Small and mid-sized companies find it the hardest to survive an attack, with 60% going out of business within six months of being hacked.3 Large businesses may find it slightly easier to make it through a phishing attack, but many don't. In fact, the global average cost of a data breach caused by a phishing email is $3.86 million.4
There are steps you can take to help ensure your company's money and your clients' data remain intact. First, take a serious look at your level of cybersecurity and preparedness. Second, identify the team of individuals responsible for cybersecurity and email phishing and have them investigate the leading email security solutions. Be sure to include INKY on the shortlist, because we believe that once you've looked around, you'll find that INKY is the only name you need on that list at all.
INKY is a cloud-based email security platform designed to see the way humans see and catch the millions of things they can't see. Powered by computer vision, artificial intelligence and machine learning, INKY is relentlessly effective and catches pretty much everything from daily spam to the most sophisticated phishing scams and zero-day attacks.
The more that INKY sees, the more the system learns; and the more the system learns, the more that INKY sees. This allows INKY to adapt in real-time to the evolving threat landscape and keep you protected every day, all year long. The system is set up to help your employees learn too. INKY uses simple-to-understand banner alerts on every email that provide gentle — but persistent — cues, whenever it detects something, smells phishy. This provides clear context and continually educates your employees, training them on what to look out for and helping to keep your whole company cyber safe.
Learn what INKY can do for your business. Schedule a free demonstration today.
----------------------
INKY® is the most effective hero in the war against phishing. An award-winning cloud-based email security solution, INKY® prevents the most complex phishing threats from disrupting or even immobilizing your company's day-to-day business operations. Using computer vision, artificial intelligence, and machine learning, INKY® is the smartest investment you can make in the security of your organization. INKY® is a proud winner of the NYCx Cybersecurity Moonshot Challenge and a finalist in the 2020 RSAC Innovation Sandbox Competition. Learn more about INKY® or request an online demonstration today.
1Source: https://www.csoonline.com/article/3153707/top-cybersecurity-facts-figures-and-statistics.html
2Source: https://www.ic3.gov/Media/PDF/AnnualReport/2020_IC3Report.pdf
3Source: https://www.inc.com/joe-galvin/60-percent-of-small-businesses-fold-within-6-months-of-a-cyber-attack-heres-how-to-protect-yourself.html
4Source: https://www.statista.com/statistics/273575/average-organizational-cost-incurred-by-a-data-breach/