In the midst of Cybersecurity Awareness Month, we are all called to consider our role in staying safe online, especially when it comes to the #1 source of cybercrime - email phishing. If you consider yourself the savvy cyber type, this is the perfect time to test your knowledge a bit. So, grab a pen and paper, then try your best to tackle these six cybersecurity questions. Good luck!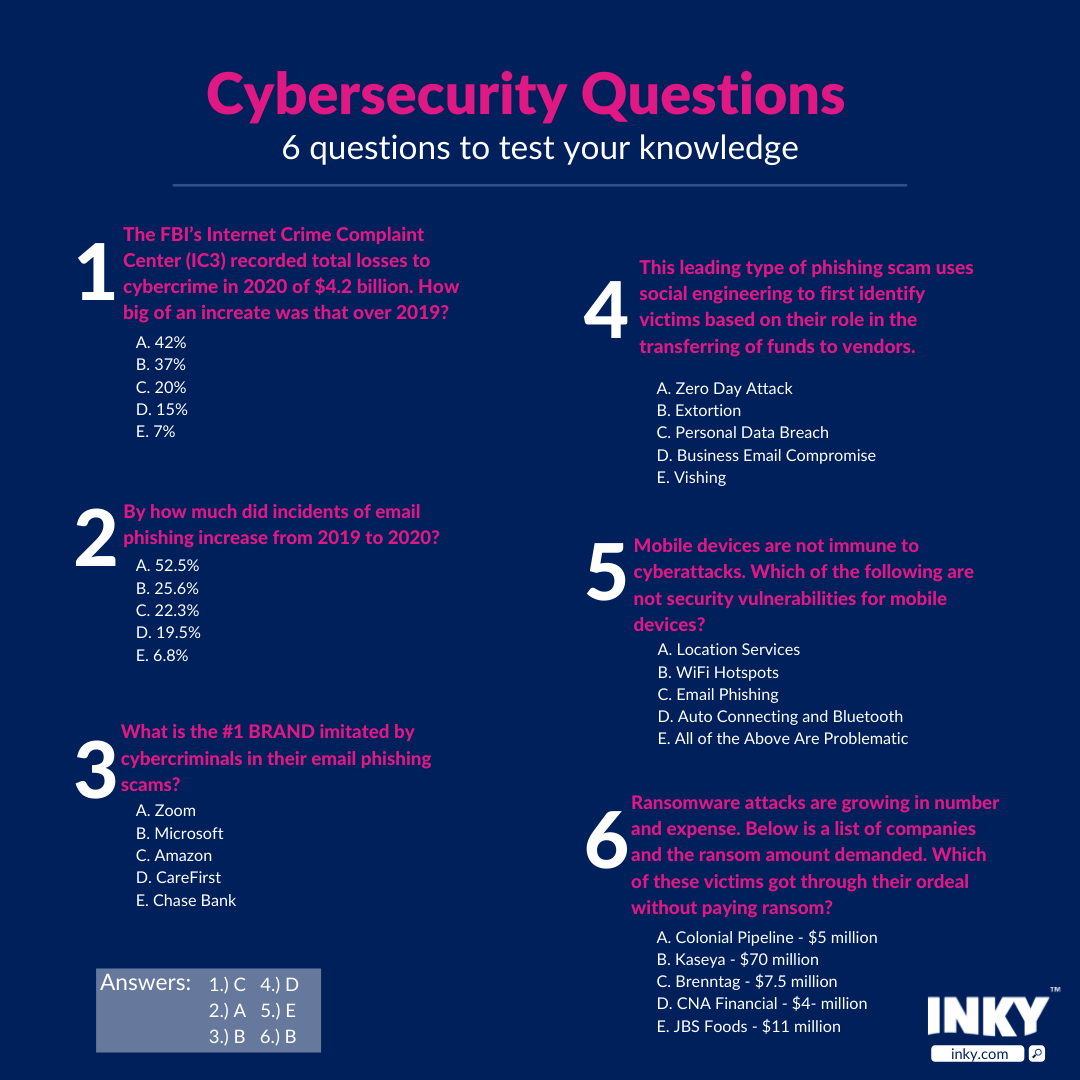 Whether you passed this quiz with flying colors, or struggled through a few of the questions, one this is for certain. No matter how high your Cyber Smarts rank, there are plenty of cybercriminals out there waiting for you or one of your colleagues to make a mistake. It only takes one click, and that one click can cost your company millions. Would you consider yourself vulnerable?
The best way to stay cyber smart is to invest in an industry leader who can do the hard work necessary to keep you safe from phishing attacks. INKY is the industry's best solution for the security of your email. Cost-effective and powerful, INKY can be implemented quickly, regardless of whether your employees work at the office or remotely. INKY is uniquely effective at catching phishing attacks and does so by searching for signs of fraud using computer vision, artificial intelligence (AI), and machine learning. INKY's award-winning cloud-based email security solution works on any device - including mobile - and places highly visible warning banners directly in the email.
If you'd like to learn more about the phishing threats facing your company and how best to protect yourself from an expensive attack, a great first step is to see what INKY can do.
Schedule an INKY demonstration today.
----------------------
INKY™ is the most effective hero in the war against phishing. An award-winning cloud-based email security solution, INKY™ prevents the most complex phishing threats from disrupting or even immobilizing your company's day-to-day business operations. Using computer vision, artificial intelligence, and machine learning, INKY™ is the smartest investment you can make in the security of your organization. INKY™ is a proud winner of the SINET 16 Innovation Award and was a finalist in the RSAC Innovation Sandbox Competition. Learn more about INKY™ or request an online demonstration today.
1Source: https://www.ic3.gov/Media/PDF/AnnualReport/2020_IC3Report.pdf'
2Source: https://www.inky.com/blog/2020s-most-phished-brands