The clock is ticking.
In 2021, an average of $13,127 per minute was lost to cybercrime.1
1 in 5 companies suffered a malicious data breach.2
Business email compromises (BECs) totalled nearly $2.4 billion in losses.1
Without the right email security platform in place, it's only a matter of time before your company becomes a nasty cybercrime statistic. But what goes into choosing the most secure email platform for your company? How do you distinguish between email security service providers? What services are a necessity and which are a waste of money? These questions and more should be answered before you sign on the dotted line.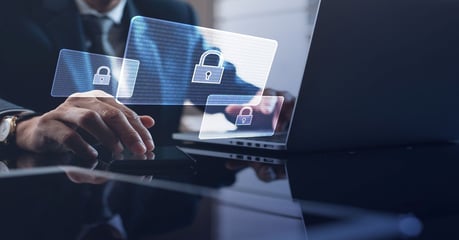 Here are a few steps to follow when choosing an email security platform.
Brush up on the latest phishing technology. This may seem like an odd place to start but when you gain a basic understanding of the technologies being used, not only can you better compare email security services, you can expand your wish list with benefits you might not have known about before.

Make a wish list. Give serious consideration to what you're looking for in an email security provider. Do you have multiple locations? Are you concerned about particular cyber threats such as ransomware or zero-day attacks? Do you have employees who work outside of the office? What "must-haves" did you discover when researching technologies? How would you like this new service to help your IT team? Do you have a cybersecurity budget?


Decide which email security providers are you considering

. Do your homework and create a list of any company that seems to offer what you need then tackle that list by applying the steps below. It's okay if your list grows as you're doing your due diligence. Just make sure you're thorough and drop any off of your list that doesn't match up from the start.


Investigate what others have to say

. You should be able to find client testimonials for every provider and if the company has been in the news, make sure you take time to read the articles. Can you see their customer list? If so, is it impressive? You can even look into industry awards and accolades to see which email security platforms are impressing the experts.


Consider their capacity for growth

. Look to the future and choose an email security platform your company can grow with your company. Choosing a cloud-based company that uses technology that is constantly learning and growing is key. It's the only way to stay ahead of the latest phishing threats. Software that needs continuous upgrades to catch new forms of cyberattacks is already too late for the party.

Evaluate the installation process. How much downtime is needed to get the product up and running? Can you try it before you buy it? Does the company have technicians to support the installation process or is it a self-serve situation? Is the solution compatible with your network? Can they cater to Microsoft 365, Exchange, and Google Workspace? How are their customer service ratings?

Match each email security service with your cybersecurity budget. This can be a difficult question to answer because in reality, preventing a phishing attack is remarkably less expensive than being a victim of one. Still, if the email security platform doesn't manage to stop phishing attacks, it isn't worth a thing. That said, don't bother considering companies that would have you believe employee training and phishing simulations are enough.
Determine if Managed Service Providers (MSPs) are a large part of the company's business. MSPs act as the IT support department for many large corporations – which includes cybersecurity and phishing protection. If the email security companies you're considering have a strong MSP following, it means their product is being offered to their most trusted clients. That's a good sign.


Weigh the value of unexpected extras. Aside from the things you already determined you want in an email security platform, what else have you come across in your investigation? Chances are, the strongest companies offer elements of email security your wish list never even considered.
Protecting your data and keeping your company safe from phishing attacks is no longer something companies can handle on their own. Phishing threats have simply become too advanced. That's why you need the help of a third-party email security platform. But don't make a rash or uninformed decision when it comes to something as important as protecting your revenue, data, operations, customers, employees, and reputation.
INKY takes the responsibility of recognizing phishing scams away from employees and IT departments by securing email and changing user behavior. An award-winning cloud-based email security platform, INKY recognizes phishing emails that the human eye could never see and blocks malicious emails, many of which your secure email gateways (SEGs) and virus protection software programs can't detect. INKY also has the ability to change user behavior, when it comes to how they handle the security of their email. Simple but effective banners alert readers of dangerous and suspicious emails, coaching them to make smart decisions.
If you like to see how INKY stands up to the competition, we welcome the challenge. Schedule your free demonstration today and see why INKY has become the email security platform of choice for so many.
----------------------
INKY is an award-winning, behavioral email security platform that blocks phishing threats, prevents data leaks, and coaches users to make smart decisions. Like a cybersecurity coach, INKY signals suspicious behaviors with interactive email banners that guide users to take safe action on any device or email client. IT teams don't face the burden of filtering every email themselves or maintaining multiple systems. Through powerful technology and intuitive user engagement, INKY keeps phishers out for good. Learn why so many companies trust the security of their email to INKY. Request an online demonstration today.
1Source: https://www.ic3.gov/Media/PDF/AnnualReport/2021_IC3Report.pdf