We all have one, so call it what you will. Your John Hancock, autograph, inscription, endorsement, seal, scrawl, or our favorite…your ink(y). It's more than just a few lines on a paper. Whether it's the curve of your letters or the middle name that's carried through your family for decades, your signature is an important part of who you are. The same is true in a professional setting. With each message you send, your reputation is on the line. The right signature line not only lets people reach you, but it can connect them to the brand and messaging you so passionately represent.
The Importance of Email Signatures
The common use of business email didn't begin until the 1980s and 1990s, with personal email following soon after. At some point in the journey the email signature line was born. This simple block of text, images, and links was originally crafted to provide recipients with the sender's contact information. Today, however, the email signature line is seen as a small but mighty marketing tool that can help to elevate your company's brand recognition, advertising, website traffic, and efficiency.
Individuals might create a singular signature line with the help of their email client. A small business with just a handful of employees might leave it up to the marketing team to create a common email signature for staff to upload. Larger organizations are commonly looking to third-party vendors to help them design and manage a consistent set of email signatures for all employees that often includes a legal disclaimer for regulatory compliance.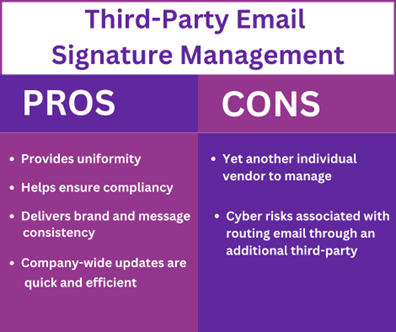 As with most things, there is a positive and a negative side to using individual email signature providers. For one, it adds another company to the list of vendors that must be managed. Secondly, with every third-party touching your emails, the risk of a cybersecurity incident is amplified.
Trust INKY's Email Signatures
If you're already using INKY for your Inbound Mail Protection, adding Email Signatures is a smart choice. INKY is in the business of keeping companies safe from phishing attacks and similar security breaches and our Email Signatures adhere to stringent security protocols. There are plenty of other benefits as well. INKY's Email Signatures offer: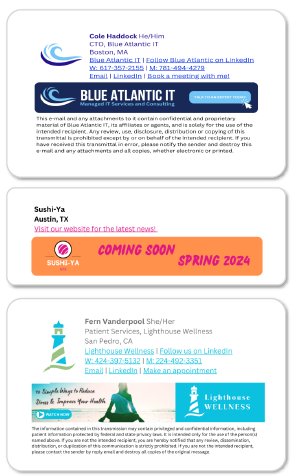 Simplified Operations: When you combine email security and email signatures into a single service, you'll have fewer vendors to manage and one less stop for your emails to make in the delivery process.
Security and Compliance: INKY's Email Signatures follow tight security protocols, including SOC 2 Type II certification on an email security platform customers trust.
Customized Profiles: Create multiple signature line configurations to support departments with distinct branding or signature preferences.
Personalized Layouts: Ensure company-wide brand consistency while also catering to individual preferences and team or departmental specific requirements. With personalized layouts, users will have the flexibility to mix and match different signature elements such as contact information, images, and footers.
Easy Management: INKY's user-friendly dashboard provides users and administrators with flexible options that are simple to use.
Get to Know INKY
Investing in the type of technology necessary to secure company email is no longer something that should be considered optional. Cost-effective and powerful, INKY can be implemented quickly, regardless of whether employees work at the office or remotely. Our suite of offerings continues to grow, keeping companies safe and efficient. It includes:
INKY is focused on the success of MSPs and members of the INKY's MSP Partner Program enjoy:
Auto-Onboarding
White label Programs
Flexible licensing and tiered pricing
NFR licenses
Turnkey Marketing Campaigns
White glove sales and tech support
Partner Portal
PSA integrations
Check out INKY's entire email security platform and contact us if you'd like a free demonstration.
----------------------
INKY is an award-winning, behavioral email security platform that blocks phishing threats, prevents data leaks, and coaches users to make smart decisions. Like a cybersecurity coach, INKY signals suspicious behaviors with interactive email banners that guide users to take safe action on any device or email client. IT teams don't face the burden of filtering every email themselves or maintaining multiple systems. Through powerful technology and intuitive user engagement, INKY keeps phishers out for good. Learn why so many companies trust the security of their email to INKY. Request an online demonstration today.