One thing is for certain―when it comes to cybersecurity and protecting your organization from phishing scams, not all email security providers are created equal. Of course, each will tell you that for the most secure email, their email filtering systems are the best at protecting you from dangerous phishing attacks. But just how good are they? How do you compare one email phishing software to another? Well, one unique way is to ask them to share some of their favorite phish tales.
INKY is a cloud-based email security platform that sees well beyond what others can't. She recognizes logos, brand colors, and email signatures. INKY understands email, searches for signs of fraud, and can spot impostors by a pixel. That's why INKY catches pretty much everything from spam and malware, to the deepest and darkest of phishing threats. She's driven, curious and mobile, and she just keeps getting smarter.
Consider some of INKY's catches. Would you have been fooled? Perhaps. Would the competition have caught all of these phishing scams? We think not.
INKY vs. a PayPal Imposter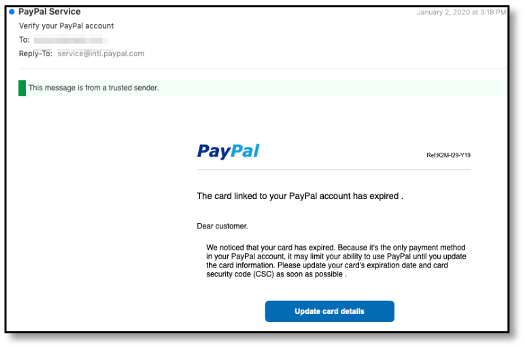 The purpose of this phishing email was to trick the victim into thinking that the credit card linked to their PayPal account has expired. The appearance (HTML/CSS) of the email body is professional. The only red flags are the email being addressed to "Dear customer" and hovering over the link shows a domain address that is not one of PayPal's. The malicious link takes the victim to a PayPal phishing page designed to steal login credentials and credit card details.
INKY flagged this email for the following reasons:
Potential Sender Forgery:
INKY's machine learning detected abnormalities about the sender since we have seen hundreds of real PayPal emails
First-Time Sender:
INKY can detect whether or not this is the first message received from the sender.
Spam Content:
Our spam engine detected attributes in raw source of email that were indicative of spam.
INKY vs. Chase Bank Impersonator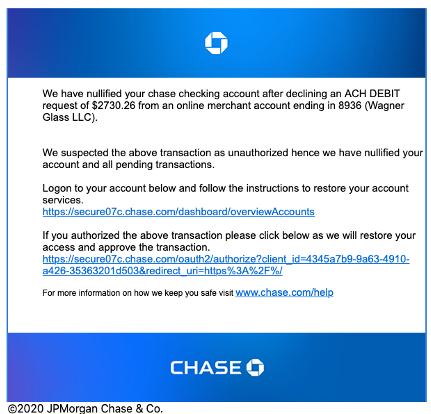 A hacker sent this malicious email posing as a fraud alert center. As with many phishing emails, the sender is trying to play off of the emotions of the recipient in order to prompt them to do something risky. The email is professional and you'll notice that the links use wording that appears safe.
INKY vs. a Microsoft OneDrive Con Artist
Most professionals receive hundreds of Microsoft attachments in the course of a month, making this next example one that could be easy to fall for. This piece of malware is disguised as a financial report in the form of an Excel spreadsheet. The banner at the top attempts to trick the reader into believing it is a private message intended only for their eyes. Even the privacy policy statement at the bottom appears legitimate.
If phishing email examples like this cause you to worry, you're not alone. After all, the statistics are alarming.
48% of data security breaches are intentionally and maliciously caused.
43% of cyberattacks target small businesses.
60% of small companies go out of business within six months of a cyberattack.
INKY® is the preferred anti-phishing solution for hundreds of companies nationwide, and with good reason. INKY is relentlessly effective―detecting and blocking things virus protection software cannot. It is also uniquely intelligent―using real-time learning to understand sender and user profiles and prevent phishing. Simple to set up, INKY integrates seamlessly with any email platform to keep your employees, customers, and data safe and secure.
----------------------
INKY® is the emerging hero in the war against phishing. An award-winning cloud-based email security solution, INKY® prevents the most complex phishing threats from disrupting or even immobilizing your company's day-to-day business operations. Using computer vision, artificial intelligence, and machine learning, INKY® is the smartest investment you can make in the security of your organization. INKY® is a proud winner of the NYCx Cybersecurity Moonshot Challenge and finalist in the 2020 RSAC Innovation Sandbox Competition. Learn more about INKY® or request an online demonstration today.